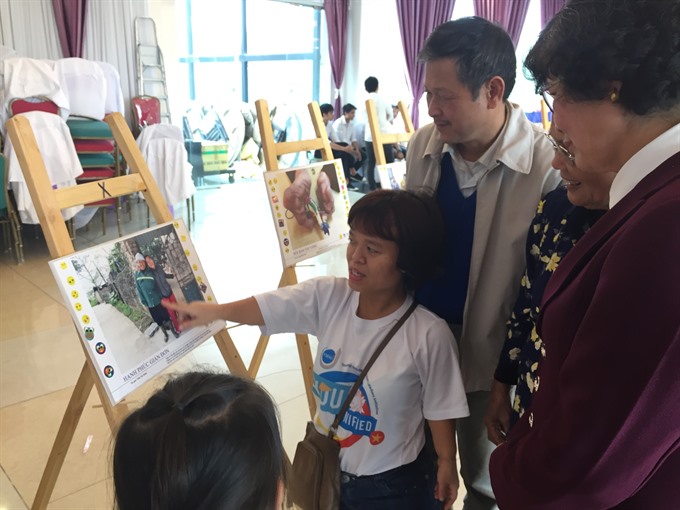 Minh Châu introduces visitors to the photos at the exhibition. VNA/VNS – Photo Khoa Thư
Viet Nam News
HÀ NỘI - "You press the button, we do the rest."
An advertising slogan coined by George Eastman, founder of Kodak, sounds obvious to most of us in the modern world but in Nguyễn Minh Châu's case, every snapshot hides a great effort.
Her ambitious idea of teaching photography and cinematography to people with disabilities has now blossomed into a successful photo-voice exhibition on December 3 in Hà Nội.
As a person with restricted growth, Châu, more than anyone, understands how to improve social awareness around people with disabilities and help them approach better policies of assistance.
"Back in 2016, I had a five-week study trip to the US. The exposure to local social organisations made me realise that there were hundreds of ways to raise awareness about issues concerning disabled people, far beyond the "traditional" distribution of leaflets and propaganda," she said.
The initiative of an internet-based communication course for people with disabilities, entitled Lăng kính người khuyết tật (Lens for people with disabilities), was quickly approved and funded by the US Embassy in Hà Nội in 2017.
The two-month course offers participants the opportunity to learn basic photographic skills. Under the guidance of well-known bloggers and photojournalists from international news agencies, they are expected to broaden the existing outlook on people with disabilities.
Moreover, since she worked with disabled people in development projects at the charity World Vision, Châu understands the barriers that disabled people face.
"Therefore, the project aims to encourage disabled people to engage in communication campaigns and share their experiences online," she said.
The project's sustainability is guaranteed with all 20 trainees nominated by the Hà Nội Disabled People Association (DP Hà Nội). These young advocates, in spite of the different types of disability they have, demonstrate a firm commitment to advocating for the rights of disabled people.
Nguyễn Văn Cương from Phú Xuyên District Disabled People Association said that the training course contributes to improving the quality of awareness campaigns.
"With only one hand, I worried whether I could take a good picture which can tell a story and meet the high standards that Châu and other trainers had set. Thanks to the course, I can apply these practical skills to my job at the association," he said.
"Practice makes perfect," Châu said, emphasising the professionalism of the course. "This event is proposed and developed completely by trainees," she added.
The mentioned event was a celebration on International Day of People with Disabilities, December 3.
Not only does the exhibition with photos taken by trainees reflect the passions of disabled people, participants can also experience using a wheelchair or shooting photos while wearing a blindfold.
Undertaking those activities, Friday Nwaigwe, UNICEF Việt Nam's Head of Child Survival and Development, expressed his strong feelings.
"This is difficult and I need support. It takes time to take a picture. I think we should do more activities like this to include disabled people in our lives," he said.
Journey of self-discovery
Lê Hương Giang, student of Hà Nội University of Social Sciences and Humanity, recalled her first experience with a camera.
"The trainer wondered how a person with visual impairment like me could take a picture. However, thanks to the serious training, after five weeks, I can handle the basic skills of photography," Giang said.
To estimate the distance between her lens and her subjects, she was trained to listen to them carefully and stabilise the camera before pressing the shutter. With an object, a flower for example, Giang practiced to use her hand to feel it and apply the basic "rule of thirds" in photography to get good picture.
Inspired by Giang, Phạm Quang Khoát, another trainee from Hoàng Mai District Disabled People Association, presented his picture of Giang practicing photographic skills at the exhibition.
"At first, I could not imagine how visually impaired people could take a picture. Therefore, this course helped us have a better understanding of different types of disabilities and of each other," he said.
Nguyễn Hồ Phương Trinh, a volunteer from the National Economics University, said that the project provided her with opportunities to see people with disabilities from a different perspective.
"All the trainees are so cooperative and helpful. They inspired me to study sign language," she said.
Empathy is an important part of solving social issues, Châu suggested.
"Mutual understanding is essential to encourage people's engagement in any advocacy campaign. Once we have the empathy, I believe every problem can be solved," she added.
Hương Giang, on other hand, highlighted the project's distinct nature.
"Almost all current awareness-raising campaigns on the rights of people with disabilities are initiated by non-disabled people. Therefore, I hope that we will have more opportunities to partake in activities like this to share genuine experiences as disabled people and provide profound insights on our issues," Giang explained.
Việt Nam has witnessed positive changes on the issue of disabled people, with the appearance of disabled-friendly public transportation as well as changes in policies and assistance.
However, to Châu, there are more obstacles to overcome.
"Considered a vulnerable group, we have to face several difficulties including education, employment and healthcare. Using the internet as a foundation, we want to spread our messages for the rights and opportunities of disabled people," added Châu.
The road ahead is long but to some trainees, Hương Giang for example, the artistic enjoyment is also important.
"It is exciting that I can now capture memorable moments and share them with my friends on social networks," she said. – VNS
Nguồn: vietnamnews.vn